Customer engagement group
We are pleased to be one of the first DNOs to create an independent Customer Engagement Group. Chaired by Jeff Halliwell the role of the Customer Engagement Group is to challenge the company to ensure that we are prioritising our customers' needs in our future plans and delivering what we set out in our current business plan.
Jeff Halliwell is a consumer heavyweight, and currently holds a number of non-executive positions including chair of Heathrow Airport's Consumer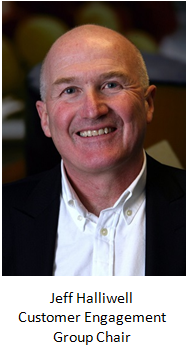 Challenge Board, chair of Anglian Waters' Customer Engagement Forum, and chair of Transport Focus, the statutory independent consumer watchdog for Britain's rail, bus, coach and tram passengers, and users of the major road network.
After an extensive and competitive search process, facilitated by leading external search consultants (Warren Partners) Jeff has now appointed the full composition of Electricity North West's Customer Engagement Group members. These individuals encompass a wide range of skills and experience which will enable them to provide independent and thorough scrutiny of our stakeholder engagement and how effective we are at engaging with our customers and reflecting this in our future plans and business commitments.

Our Customer Engagement Group members:
Jayne Scott brings strong experience in regulatory economics, including in the energy sector. Jayne served for nine years as a Non-Executive Director of the Gas and Electricity Markets Authority (Ofgem), and was also a Panel Member for the Competition and Markets Authority. She is Chair of Scottish Gas Networks' Stakeholder Advisory Panel, a member of the Heathrow Consumer Challenge Board, and serves on a number of other public sector boards.
Professor Jovica Milanovic is Chair in Electrical Power Engineering and Deputy Head of the School of Electrical and Electronic Engineering at the University of Manchester. He has over 500 publications to his name, with over 7,000 citations, and leads a research team of 11 including 4 postdoctoral researchers and 7 PhD students. Jovica is an internationally recognised researcher and speaker in the area of distribution and transmission network operation and control and member of many professional associations and advisory bodies.
Bev Keogh recently retired as from her role as Director of Business Assurance of Scottish and Southern Energy plc, and therefore brings extensive knowledge of electricity distribution and current issues, as well as the preparation and processes of business planning in the energy sector.
Dr David Holden established and grew a highly successful market research consultancy and has a strong appreciation of market research techniques in regulated markets. He is an acknowledged expert in willingness-to-pay studies, holding a PhD in that subject. David sits on the Heathrow Consumer Challenge Board and Ofcom's Consumer Communication Panel.
Caroline Farquhar is a Senior Policy Researcher in the Energy Networks and Systems Team at Citizens Advice, who are the independent statutory consumer champion in the energy sector. Caroline served for six years as a member of the South East Water Customer Challenge Group, and as well as her consumer champion experience, brings a background in investment banking.
Todd Holden is Director for Low Carbon at The Growth Company, a large North-West based not-for-profit organisation. Todd acts as GC's lead on environmental and low carbon issues, and has an extensive background in resource efficiency issues and the development of low carbon services. As well as sitting on the Customer Engagement Group, Todd will act as the independent Chair of Electricity North West's newly-reconstituted Sustainability Advisory Panel.
Jenny Willis has extensive experience working in research, participation, and community and stakeholder engagement, particularly focussing on the needs of those who find themselves in vulnerable circumstances. Working with consultancy 3KQ Jenny has supported SGN and SP Energy Networks with their stakeholder engagement, and amongst other energy-related work with Co-operatives UK, co-authored a report for them entitled "Co-operative renewable energy in the UK: a guide to this growing sector". Jenny and her family run a small upland farm near Kendal in the Lake District. As well as sitting on the Customer Engagement Group, Jenny will act as the independent Chair of Electricity North West's newly-reconstituted Consumer Vulnerability Advisory Panel.
Gemma Osula will provide an independent board secretariat and report drafting service to the Customer Engagement Group. As Senior Assurance Consultant for Uniac, Gemma gained experience of working in the regulated Higher Education sector, and has wide experience of supporting organisations through internal audit and risk management, including GDPR, and of writing technical board-level reports. Gemma holds a 1st class degree in Business Studies from Birmingham City University.
If you would like to find out more about our Customer Engagaement Group, please email stakeholderengagement@enwl.co.uk.
Peter Emery, Electricity North West CEO, said: "We're delighted to be one of the first electricity distribution network operators to have established an independent customer champion, and delighted to have someone of Jeff's calibre on board. "Jeff brings with him a fantastic level of experience and insight to be able to establish and chair this new group and I look forward to working with him to ensure our plans deliver for the people of the North West."